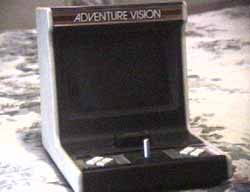 Name: Anthony
State: NY
Country: USA
---
Anthony found his system sitting on a lady's table at a local flea market. After seeing the price, he decided to perform a little "flea market shuffle" with her. When the dust cleared, he was the proud owner of an Entex Adventure Vision.
To quote Anthony, "it's my favorite toy in the world and I am glad to see other people appreciated this system like I do."

Congratulations Anthony!
---
Back: Owner's Pride List