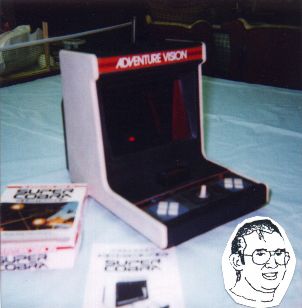 Name: Al
State: NJ
Country: USA
---
The AV & I
by Al Backiel

I first saw the Adventure Vision in a department store when I was Christmas shopping back in '82 or '83. I was checking it out and thought it looked pretty neat. My wife saw me and made the comment, "Don't you have enough video games?" In one fell swoop, she managed to talk me out of it. I was never to see the system again until mid-'99. I wrote the AV section for the Digital Press Collectors Guide in spite of the fact that I had never even played any of the games. I had done some research using my old video game magazines and books. I also corresponded with a user I knew who actually owned one. This helped me with the fine points and answered some of my own questions. So I was able to give a somewhat informed report.

In 1999, I had the pleasure of meeting Jeff Folejewski (Webmaster) at a NAVA collector's meeting in Howell, NJ. He drew a crowd when he brought in his Adventure Visions. I had to be careful not to drool all over them. Just recently I was able to pick up a working AV (unit only-no game) from someone I dealt with in the past. It was a little scratched up, but still looked pretty good. I had a working Super Cobra cart that I picked up years ago in a closeout. I did have a joystick problem (no UP), but I took it apart and managed to fix it and also clean it up a bit. The rubber joystick buttons are showing wear and tear and they will have to be replaced someday. Right now I am thrilled to own a working system.
---
NOTE:Al no longer has this system.
---
Back: Owner's Pride List